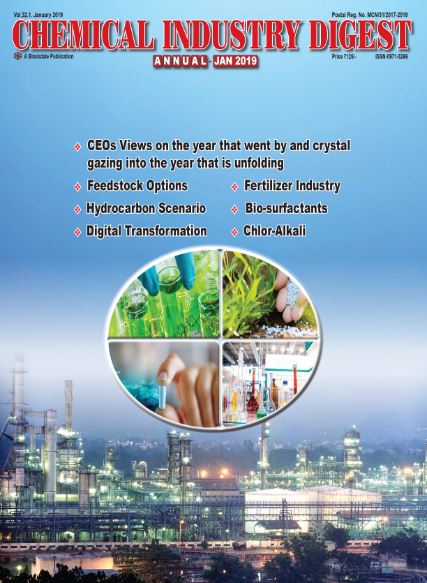 Things to watch out for in this issue:
Chemingineering – Catch 'em Young
K Sahasranaman, Independent Consultant – Process Engineering, Energy, Utilities and Safety.
A range of emerging technologies are making a splash into industry; these are nothing short of being able to create breakthroughs in industry, taking it to the next paradigm. Our columnist who has written on these technologies extensively laments its tardy reception in the chemical industry and advocates introducing topics on these technologies in our engineering education curriculum.
CEO's Forum …
Adnan Ahmad, Neelanjan Banerjee, Nadir Godrej, Shernaz Vakil
Leading CEOs present their views on the year that went by and how they look to 2019. Also their analysis on industrial investments and emerging technologies.
Addressing the Feedstock Disadvantage in India's Chemicals Industry
Anshuman Maheshwary, Sudeep Maheshwari, Taru Agarwal – A.T. Kearney.
India's economic growth needs copious quantities of chemicals, particularly basic feedstocks and platform chemicals or building blockds. However, due to the dearth of feedstocks capacity building has been affected. This article offers some solutions.
India: Fertilizer Industry Outlook – Stagnancy and Despair Prevail
Dr M P Sukumaran Nair, FIE – Consultant and Educator
Despite the fundamental importance of fertilizers to the Indian agrarian economy lopsided government policies of subsidies have stymied this industry, laments the au¬thor. He analyses the problems and challenges in detail.
An Overview Of Crude Oil Refining and Petrochemicals – A Perspective
Thomas Mathew, Antony Francis – Reliance Industries Ltd
Various disruptive technological breakthroughs on the transportaiton front, in re¬newables and other areas would sooner than later turn the petroleum refining busi¬ness into a sunset industry. Even in the nearterm, refineries need to run on petro¬chemical mode. Read this interesting account of the emerging role of hydrocarbons.
150th Anniversary of Periodic Table and Mendeleev
Dr N Jaya Chandra Reddy, Dr Bipul B Saha – NACL Laboratories Ltd
If there is any one scientist that the world of science has to thank for a structured understanding and propertywise gradation of elements, it is no other than Mendeleev. This article profiles Men¬deleev in all his painstaking endeavour in developing the Periodic Table – a fitting tribute on the 150th anniversary of the Peridoic Table.
Bio-Surfactants: Can sugar surfactants be an emerging opportunity for the Indian market?Saranya Anbu – Beroe Inc.
Worldover vrious pressures are driving towards a cleaner environment. Therefore, products made from renewable resources become paramount. Bio-surfactant is one such development. Here sugar surfactants are reviewed.
Capitalize on the horsepower of digital transformation
Dr. Filipe Soares-Pinto, Sunil Patil – AspenTech.
The next big revolution in industry touted as Industry 4.0 that is expected to take industry to new horizons through a suite of digital technologies is breaking out on the scene. How companies can benefit is outlined here.
Chlor Alkali Industry
A K Tyagi – Nuberg Engineering Ltd.
Few chemical and allied industries can exist without utilising the products of the chlor-alkali industry. However, in India it is hamstrung by high energy costs and lack of outlets for offtake of chlorine, despite increasing demand. A review.
Promote a Circular and Sustainable Economy
Neil Iyer – GI Dynamics BV, The Netherlands
Biotechnologies are developing at a good pace as petroproducts are set to decline in the long run. The author describes through some examples how biomass based chemical industry, particularly ethanol based, can help make the circular economy a reality.