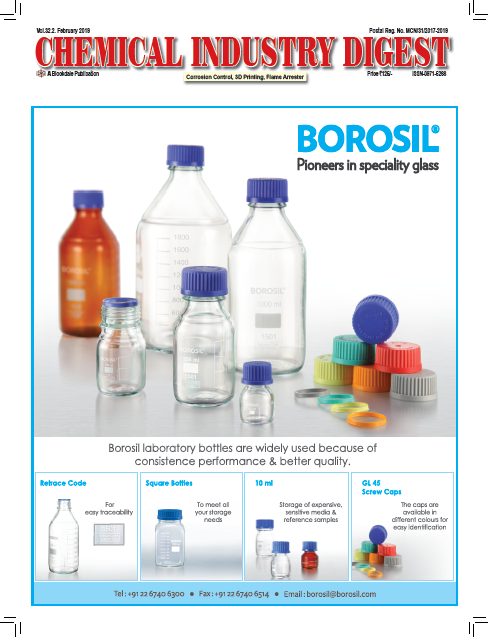 Articles covered in this issue:
Metals Corrosion, Corrosion Control & Corrosion Preven­tion
– S Raghava Chari, Independent Consultant
Corrosion damages industrial assets. It can affect productivity, reliability of plant & equipment and could seriously affect safety of plant operations. This article comprehensively reviews corrosion control and prevention with in­teresting case studies from the author's own industrial experiences.
Removal of NH3-N (Ammonical Nitrogen) from Process Wastewater by Batch vs Con­tinuous Steam Stripping
– Arvind Madalgi, Samarpita Chakraborty
Based on actual work done at Coromandel Inter­national plant, the authors prove that continuous steam stripping by packed beds show better operability, efficiency and economic per­formance for removing ammonia/nitrogen from process wastewater.
3D Printing Adds a New Dimension to Pro­cess Equipment
– Sean Ottewell
3D Printing will be a game changer in the fabrica­tion of chemical plant & equipment. Complex equip­ment and a project specific equipment can be produced through 3D Printing. Get to know the advances in this field.
Flame Arrester
– Yogesh Jangra, Fluor Daniel India Ltd.
Latest international standards for design of flame ar­rester – an equipment crucial for safety of chemical plant operations – supercede earlier ones. This article dis­cusses the new standard and selection criteria for flame arresters.