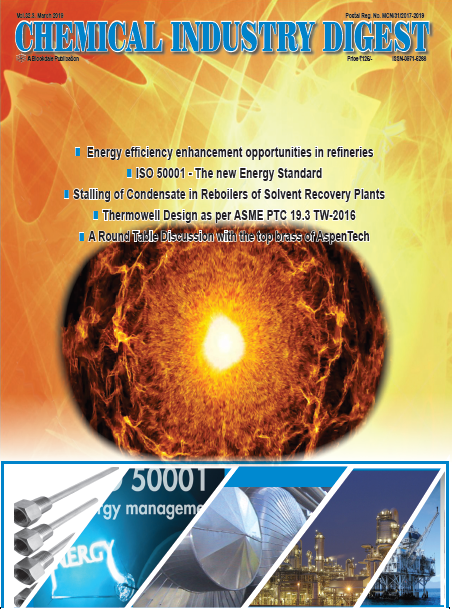 Articles in this issue:
Energy efficiency enhancement opportunities in refineries through optimal design, capacity debottlenecking and opera­tional optimization of gas treating systems
– Ritesh Gulabani, Dow Chemicals
For refineries to remain globally competitive while facing chal­lenges of volatile crude prices which threaten refining margins, continuous efforts are required to enhance energy efficiency in its operations. Various energy conservation targets are also specified by regulatory agencies. This paper outlines how energy efficiency can be enhanced in gas treating systems alongwith case studies.
ISO 50001 – The new Energy Standard and Measures to Improve Energy Efficiency in Utilities
– Ketan Deshmukh, Lloyd's Register
This new energy standard is explained along­with instances where energy efficiency can be en­hanced in process equipment.
Stalling of Condensate in Reboilers of Solvent Recovery Plants
– Smital Shah, Forbes Marshall Pvt. Ltd
Effective and efficient steam management needs appropri­ately sized steam traps. Otherwise it leads to stalling, the inability to evacuate condensate effectively. The article discusses stalling, problems caused with an example in solvent recovery plants.
Thermowell Design as per ASME PTC 19.3 TW-2016 and Notable Changes in Comparison with Earlier Versions
– Sheikh Rafik Manihar Ahmed, Fluor Daniel India Ltd.
Explains the wake frequency ratio re­quirements for thermowell as per the lat­est edition of ASME PTC 19.3 TW-2016 as compared to the previous editions. This is important to understand the changes and improvements in Ther­mowell Design and calculations.
Interview: Industry 4.0 solves industry problems far better, in more ways than one, and faster
AspenTech top brass says that the new suite of digital tech­nologies have marvellous benefits such as detecting problems in plant & equipment far ahead of possible failure. No need to get overawed by these technologies as they are very user friendly, solve myriad other industry problems and also make work more exciting.
Elements Matter–> Phosphorus: Critically life-essential, alarmingly poisonous
– Veena Patwardhan – Special Correspondent
A very readable account of the serendipi­tous discovery of phosphorus, its life sustain­ing properties as well as the dangers from its misuse.
Chemingineering – A Quantum Jump
– K Sahasranaman – Independent Consultant
Our columnist explains the quan­tum possibilities from quantum com­puting and how its applications can pave the way for development of new drugs, materials and catalysts.